Dessert is a part of the meal that usually comes after dinner. Most often it is a sweet food but can also be of a strongly flavored food, such as cheese, like cheese cake. The word "dessert" comes from the Old French word "desservir", which means to clear the table. Often times in the English language it is confused with the word desert (note only one "s"), which is a barren piece of land normally with sand as soil.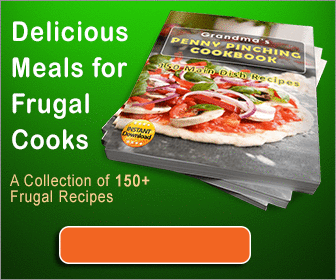 In today's culture dessert recipes have become a popular item for discussion, as they are a way to win people over at the end of any meal. This is partly because if you serve a mediocre meal, with an excellent dessert, people will remember you for the dessert and forget about the meal.
Here are some penny pinching tips for desserts that I use and some ideas for substituting if you don't have all the right ingredients.
STRAWBERRY SHORTCAKE
You can use the shortcake cups you buy at the grocery or use any angel food or pound cake for your base.
Another idea and more thrifty. Make sweet biscuits, simply add sugar to your basic biscuit recipe. Cut or break in half to layer your strawberries on.
Don't have any strawberries or they are out of season? Believe it or not, I have found canned strawberries at Big Lots. They are big juicy berries and great for shortcake. The liquid can be thickened with a little bit of corn starch.
WHIPPED CREAM
You can buy Cool Whip, but a less expensive idea is to buy a carton of whipping cream and make your own, once the cream starts to take shape just add a ½ cup of sugar slowly and continue to whip until stiff peaks form.
Another suggestion is to buy Dream Whip; not expensive and it will sit on your shelf until you are ready to use it. You will normally find it on the pudding isle. Just follow package directions. Quick and easy.
DREAM PIE CRUST
Want to make that Dream Pie and forgot to buy a prepared graham cracker crust? Substitute!!!
If you have children chances are you have graham crackers on hand, use those to make your crust. Simply put the crackers in your blender or food processor and make the crumbs. It takes about 2 cups of crumbs for the crust. Add ½ cup of melted butter or margarine blend well and press into the 9 inch pie pan. Bake at 350 for 10 minutes, cool and fill.
Now the best part, let us say you don't have enough graham crackers or you don't have any. Again substitute!!! I am sure you have some crackers in your cupboard, club, Ritz or Hi-Ho.
Make the crumbs and add ½ cup of sugar (if using partial graham crackers only ¼ cup) and the melted butter or margarine.
Prepare and bake as directed. Actually my other half says this is better than the prepared crust. Try it you will like it.
Don't have Dream Whip and still want to make this pie? Substitute!!!
Do you have Cool whip in your refrigerator? Use it instead, simply make your pudding and blend it in with the Cool Whip, chill and you are done.
ORANGE AND LEMON ICE
Orange and lemon ice an Italian dessert treat is a simple to make dessert that can be served in the heat of summer as a refreshing after lunch dessert or as an elegant ending to any meal.
2 Cups cold water
½ Cup granulated sugar
1 tsp grated lemon rind
½ Cup fresh lemon juice
1 Cup fresh orange juice
6 tablespoons Grand Marnier
Boil the water, sugar and lemon rind for 5 minutes. Cool and add lemon and orange juice; mix well.
Freeze for 1 ½ hours.
Remove from freezer and beat in 2 Tbs Grand Marnier.
Return to the freezer until ready to serve.
To serve scoop into chilled wine glasses and float 1 Tbs of Grand Marnier on top.
A great and inexpensive dessert.