Sauces and salad dressings are so easy to make. I know sometimes it's easier to buy them but the benefits of making your own, makes it worth it to me. For one thing by making it yourself, they are going to taste the way you want them to. Not like they came out of a can or jar. Besides fresh made always tastes better.
SPAGHETTI SAUCE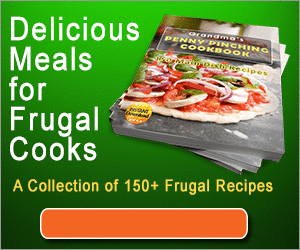 Make your own, much cheaper then any store bought and easy to do, the recipe is in almost every cook book.
Want to know how I make mine?
Easy, use your crock pot. I have a large one, 5 quart. Put in 4 (303) large cans of tomato sauce, chopped onions and 2 pkgs of spaghetti sauce mix.
Heat on high for 2 or 3 hours. Or if you are going to be gone all day, just set on low.
If you want ground meat, hamburger or sausage, in your sauce, brown it and drain off the excess fat. Take a bowl and line it with paper towels, pour in your meat and the towels will absorb the fat. Add the meat to your sauce and let it cook. To change the meat content, use leftover chicken, just cut it into small pieces.
You can now turn it down to low and it will be ready when you are. Any leftover sauce can be frozen until the next time you are hungry for spaghetti or use it to make lasagna.
Another tip, if you don't want a meat sauce, you can make it vegetarian. Add chopped zucchini and celery, slivered carrots, mushrooms, etc. Suit your own taste.
TARTAR SAUCE
Serving fish and you are out of tartar sauce. Make your own.
Put ½ cup of mayonnaise into a bow, add dried onion flakes, sweet relish and a little bit of salt. Blend these together and refrigerate for a couple of hours so the flavors can meld.
Recipe can be doubled or tripled or what ever you need to serve.
Can be refrigerated for up to 2 months.
SEAFOOD COCKTAIL SAUCE
Easy and cheap to prepare.
Blend ½ cup of catsup or tomato sauce
1 tsp lemon juice
4 Tbs chili sauce or salsa
½ tsp Worcester sauce
Add ½ Tbs horseradish, if you like it a bit hotter
BAR-B-QUE SAUCE
Make your own!! Easy and less expensive than buying it.
1 bottle of catsup (14 oz)
4 Tbs wine vinegar,
2-3 Tbs soy sauce,
1-2 Tbs brown sugar,

D

ash of garlic powder,
½ tsp salt,
1/3 cup of salad oil (any kind, vegetable, canola, corn, doesn't matter).
Blend all together and let sit for a couple of hours in the refrigerator for flavors to meld.
You can change the flavor by adding, if you desire a little Jack Daniels or bourbon. For a bit sweeter sauce add Drambouie or Frangelica. Or use an orange liquor such as Grand Marnier.
CHEESE SAUCE
Make a white sauce. Easy and thrifty.
THIN – 1 Tbs butter or margarine and 1 Tbs flour for each cup of milk.
MEDIUM – 2 Tbs butter or margarine and 2 Tbs flour for each cup of milk.
THICK – 3-4 Tbs butter or margarine and 3-4 Tbs flour for each cup of milk.
Add ½ cup cubed cheddar, swiss, or whatever cheese you like to each cup of white sauce. A combination of different cheeses will give a unique flavor.
Over low heat, stir and blend until completely melted.
Serve over Macaroni, noodles, broccoli or cauliflower. Use your imagination.
QUICK AND EASY SALAD DRESSINGS (Cheaper than buying)
Thousand Island
1 cup mayonnaise
¼ cup sweet relish
dash of garlic powder
2-4 Tbs chili sauce or salsa
1 tsp Worcester sauce
Blend and refrigerate for a couple of hours for flavors to meld.
Creamy Garlic
4 Tbs lemon juice
¾ cup salad oil
2/3 cup light cream (evaporated milk could be substituted)
2 cloves of garlic (finely minced)
1 tsp salt
½ tsp sugar
¼ tsp pepper
½ tsp paprika
Blend and refrigerate for a couple of hours for flavor to meld.