Soup, hearty, quick and easy. It's also an inexpensive meal to serve on a chilly day. Here are some, plus a gravy I like to make. Penny pinching can become a way of life if you don't like to waste food or money and I hate to waste either.
GARBAGE SOUP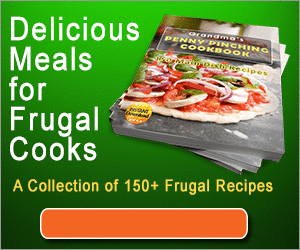 One of the biggest money savers is getting a meal for virtually free. Sound intriguing? It is the simplest thing to do.
I call it my Garbage Soup, doesn't sound good enough to eat? Well I am here to tell you it is delicious.
The first thing is to ask you a question. What do you do with that tablespoon of peas that nobody ate? THROW IT IN THE GARBAGE. Don't do that!!! You are wasting good food.
I keep a Tupperware container in my freezer and put those peas in it, then back in the freezer. Just keep layering, corn, green beans, that little bit of chicken, cut up in pieces, the leftover roast beef that isn't enough to make a sandwich. A little bit of spaghetti sauce and don't forget the mac and cheese, like I said it doesn't matter.
You made tacos and there is a bit of meat, and tomatoes left, put it in the container.
When your container is full, thaw it out and break out your crock pot, add a little bit of water and maybe a can of diced tomatoes and turn it on. The slow cooking allows the flavors to meld and makes a terrific soup.
I use a separate container for rice or pasta; add those in the last hour or so of cooking. If you add them too soon, they become a bit mushy; you do not want that to happen.
Serve your soup with biscuits, cornbread or crackers, whatever your family likes and you have an almost FREE MEAL!! Enjoy.
SPLIT PEA SOUP
Don't boil your peas for hours and have to watch the pot to make sure it doesn't boil dry. Use your crock pot.
The night before, rinse your split peas and put them in the crock pot, cover with water an inch or so above them. They tend to swell a bit while soaking.
The next morning, add salt, an onion and if you want some meat, a ham hock, bacon pieces or salt pork. You can also add chopped carrot and maybe celery if you like.
Turn on low and walk away. This will cook all day and be ready to eat when you are. Serve with your favorite bread, enjoy.
POTATO SOUP
Cheap, easy and delicious. Use your crock pot.
Cut your potatoes in chunks, chop an onion (or use the ones you made earlier from your freezer). Chop celery and carrots.
Place all ingredients in your crock pot, cover with water and add salt. Put on low and cook all day. When you are ready, use your mixer and blend the vegetables, leave a little chunky. Add some milk and more salt to taste.
If you want a little meat in your soup add crumbled bacon or chopped ham. Serve with cornbread, biscuits or maybe some toasted and buttered sourdough.
QUICK GRAVY
Don't buy the canned or prepared gravy mixes, yes they only cost 35 or 45 cents, but this is a lot less expensive. Probably cost less than a dime.
Serving some leftover meat and need some gravy? Melt a couple of bouillon cubes in a couple cups of water, mix a couple Tbs of corn starch with a little water and add to the pan. Stir until thick and clear.
For beef, use beef bouillon, chicken, use chicken bouillon. A trick for pork, use a combination of both beef and chicken bouillon.
You can use flour if you want for the gravy, but it tends to be a little thick and pasty, so I don't recommend it.