Bisque is a thick creamy soup originating from France and as a rule it's quite an expensive soup to make – the cost of lobster/shrimp/crab is quite high.
]First, I'll give you the traditional method of making a seafood bisque, but if you read to the bottom, you'll find a way of using some leftover shells from any recipe that will give you 'two meals for the price of one' and that's got to be good in anyone's book – a luxurious soup from something you'd usually throw away.
Lobster Seafood Bisque Recipe
1 large lobster, cooked
1 onion, peeled and chopped
1 carrot, peeled and chopped
2 sticks celery, de-stringed and chopped
2 tbspns oil
2 tbspns brandy
2 pints (1.25 litres) fish stock (see below)
1/4 pint (15ml) white wine
2 oz (50g) white long grain rice
1 small tin (200g) plum tomatoes, chopped
Pepper to taste
Take the meat out of the lobster and set aside.
Take the lobster shell and bash it with a rolling pin (it's best to put it inside a cloth before you do this, to prevent the bits of shell flying all over the kitchen)
Soften the onion, carrot and celery in a pan. Add the broken shell and water to make your fish stock. Bring to the boil and simmer for about 30 minutes.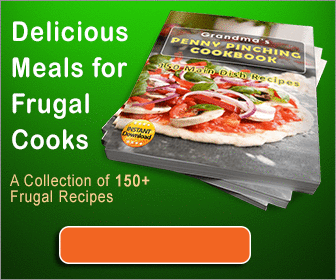 Strain the stock carefully.
Use about a quarter of it to boil your rice until it is soft.
Put the rest of the stock into another pan.
Pour the brandy into a ladle and hold over heat until it flames, add this to your 'main' stock.
Add the wine and leave it to simmer for about 20 minutes.
Take your cooked rice, stock and tomatoes and blend them to a fine consistency – either use a food processor, blender or push through a sieve.
Add this to the soup.
Chop the lobster meat and add to the bisque.
Reheat and add black pepper to taste.
Frugal Seafood Bisque Recipe
This seafood bisque recipe uses the shell from a lobster that you have already enjoyed – (or you could substitute crab shell or shrimp/prawn shells) plus a little reserved meat or frozen/canned meat – or actually no meat at all – the lobster/crab/shrimp/prawn taste comes from the shell.
You make the bisque in exactly the same way as the previous recipe, but you just use the shell to make the stock and add either some reserved lobster, a little bit of crab or a few prawns if you have some, to make your seafood bisque.
A couple of tablespoons of thick cream swirled in at the end of cooking will make it quite luxurious.
Thank you Liz from, find a seafood recipe, for these great recipes. If you're looking for other great seafood recipes check out her web site.