It's Easy Because You Have The Necessary Ingredients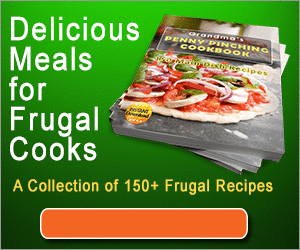 This peanut butter cookie recipe will appeal to you if you've ever been called thrifty, frugal or a penny pincher. Peanut butter has always been an American favorite. So it just makes perfect sense to get the most out of your jar of peanut butter.
What I like most about this recipe is the use of ingredients you already have on hand. This recipe is easy to make. Go ahead and give the recipe a try.
Recipe Ingredients:
1/2 – stick butter, softened
1/2 – cup granulated sugar
1/2 – cup light brown sugar, packed
1 – egg
1/2 – teaspoon vanilla extract
1 – cup peanut butter
1/2 – cup flour
1/2 – teaspoon baking soda
1/2 – teaspoon salt
Cookware and Utensils:
1 – Measuring cup
1 – mixing bowl
1 – hand or stand mixer
1 – cooking sheet
1 – Stirring spoon
Recipe Instructions:
As always the key to great cooking is to be prepared and to use quality ingredients.
Preheat oven to 375 degrees.
Start to form dough by creaming your butter and sugars in a kitchen hand or stand mixer. Next add eggs, vanilla, peanut butter and mix thoroughly.
To finish dough, sift together your flour, baking soda, salt and add to your mixture. Stir mixture vigorously to form dough.
Roll dough into 3/4 inch balls and place 2 inches apart on greased cookie sheet. Use a fork to flatten out the dough. Bake peanut butter cookies at 375 degrees for 10-15 minutes.
Flourless, 3 Ingredient Peanut Butter Cookies
1 cup sugar (or 3/4 cup, if you prefer)
1 large egg
1 cup peanut butter (crunchy or smooth)
Combine sugar and egg in mixing bowl, stirring until smooth. Add peanut butter and mix thoroughly. Roll into walnut-sized balls.
Place the balls on an un-greased cookie sheet(s) at least 2″ apart. Flatten with the tines of a fork, then turn 90 degrees and use fork again to create cross hatches.
Bake 10 minutes at 375 degrees Fahrenheit (or until done). Let cool in pan for 1 minute before removing to cooling rack. Leaving them on the sheet for too long will make them hard.
When I tried this recipe I found the cookies are soft after they come from the oven. I don't know how long they stay soft out of the oven though, as Grandpa and I pretty much destroyed the cookies.
Still, if you plan on keeping them (or any other type of cookies for that matter) for a while, then put a slice of bread on the bottom of an air tight container and place the cookies on top. If you have any cookies left when the bread gets hard, replace the piece of bread.
This recipe was sent in to me from Soul Food and Southern Cooking.com if you want some great soul food recipes, tips, techniques and information be sure to check out the site.