What I am trying to do is show you how to save money and give different cooking tips. Looking on the web, everybody and their brother has recipes. I have put in a few recipes, but mostly tips to pinch those pennies and stretch those dollars.
Some substitutions and varying ways to save money, still serving your family tasty and healthy food. How to use what is on hand in your kitchen if you don't have the exact item.
ROAST BEEF COOKING TIP
Easy, use your crock pot. Place your potatoes carrots and onions in the bottom and put your roast on top. Pour a pkg of onion soup mix over and add a cup of water. Turn on low and by the time you get home from work you will have a deliciously cooked meal to serve.
Don't have onion soup mix, substitute!!
Crush a couple beef bouillon cubes and add some dried onion flakes, you will never know the difference.
Want a little different flavor? Instead of water, pour in a cup of bourbon or a cup of wine (any kind). The alcohol cooks out, so don't let that be a worry.
STROGANOFF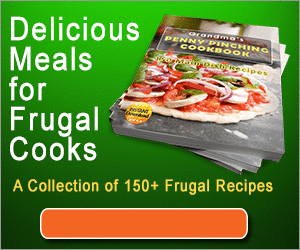 Now that you have leftover roast beef, you can make stroganoff. Cut your beef into small cubes, heat through with a can of mushroom soup, stir in a cup of sour cream and if you want add a little bit of red wine; serve over hot buttered noodles.
Don't have any sour cream? Substitute!!
Do you have a cup of cottage cheese? Place I cup of cottage cheese, 5 Tbs of milk and 1 Tbs of lemon juice in the blender and blend until smooth and creamy.
CHICKEN AND GRAVY
Use your crock pot. Place your chicken pieces (any pieces will do, drumsticks, thighs or whole cut up) in the crock pot. Add a can of cream of mushroom, cream of chicken, cream of celery, or creamy tomato. You could even use bar-b-que sauce. Cook on low and when you are ready to eat, serve over rice or noodles. Your family will love you.
Don't have creamy tomato, but have a can of regular tomato soup? Make your own, simply add a half can of milk and blend together. You could even make it spicy by adding some salsa or Tabasco.
POTATO PANCAKES
Don't know what to do with that little bit of mashed potatoes? Make potato pancakes. Stir the potatoes with some milk, flour and baking powder. The consistency of regular pancakes. Fry in a little bit of butter or margarine, making them about the size of dollar pancakes.
If you wish add some onion or grated cheese or both. Serve with sour cream or spread cheese. Delicious!!
GREAT GREEN BEANS
Want a change from ordinary plain green beans? Take a can of green beans and drain. Cook until heated through in a pan or in the microwave, add a little butter to coat and add garlic salt or garlic powder and sour cream or mayonnaise. Tasty!! Even my children who didn't like vegetables loved them this way.
BEANS 
(any kind, pinto, butter, navy, etc.)
Don't boil your beans for hours and have to watch the pot to make sure it doesn't boil dry. Use your crock pot.
The night before, rinse your beans and put them in the crock pot, cover with water an inch or so above the beans. The beans tend to swell a bit while soaking.
The next morning, add salt, an onion and if you want some meat, a ham hock, bacon pieces or salt pork. Turn on low and walk away. This will cook all day and be ready to eat when you are. Serve with your favorite bread, enjoy.
CHOPPED ONION
Use chopped onions all the time, but tired of chopping every time you need them?
Prepare ahead. Buy that bag of onions and chop all of them to the size you like. Spread them out on a cookie sheet and place in the freezer. After they are frozen, put into a zip lock bag and put back in the freezer. Ready to use anytime you need them.
For more about cooking with onions, go here.
---
FRUGAL SEAFOOD BISQUE Bisque is a thick creamy soup originating from France and as a rule it's quite an expensive soup to make. Penny Pinching Grandma has been given a frugal way to make it from find-a-seafood-recipe.com
---
PEANUT BUTTER COOKIES A good peanut butter cookie recipe for the penny pinching and frugal cook. Cook up some delicious cookies with ingredients you already have on hand in your kitchen. Sent to me by Soul Food and Southern Cooking.com.
---
Do You Know What Food SELL-BY Dates Really Mean Many states require food manufacturers to mark perishable foods with a date so that customers can gauge product freshness.
---
MAKE YOUR OWN and save money the penny pinching way I know it's so easy to go to the grocery store and pick up all of those prepared convenience items. If you make your own there are a lot of benefits, money savings if nothing else.
---
QUICK AND TASTY SAUCES AND SALAD DRESSINGS, you can make yourself Make your own sauces and salad dressings, they are easy to do and taste great too.
---
SOUP, this is a virtually FREE meal, for the penny pincher in all of us Soup is great on those cold wintry days, but even better if it's free. You don't have to stand in line at the soup kitchen, you make it yourself.
---
LOVE DESSERT? Here is some penny pinching ways to make them Strawberry short cake with whipped cream for dessert; sounds good. Out of season; don't have all of the ingredients; with a little substitution you can do it anyway.
---
FREEZE DURING THE SUMMER AND SAVE DURING THE WINTER You can freeze fresh vegetables easily with these tips and save money buying them during the winter. Most vegetables can be frozen at home if you know how.